First let me begin by giving thanks to everyone who has and continues to support our Club Masonico Libertad through the serious task we have taken upon during the past few years in the creation of the first Spanish language lodge in our jurisdiction.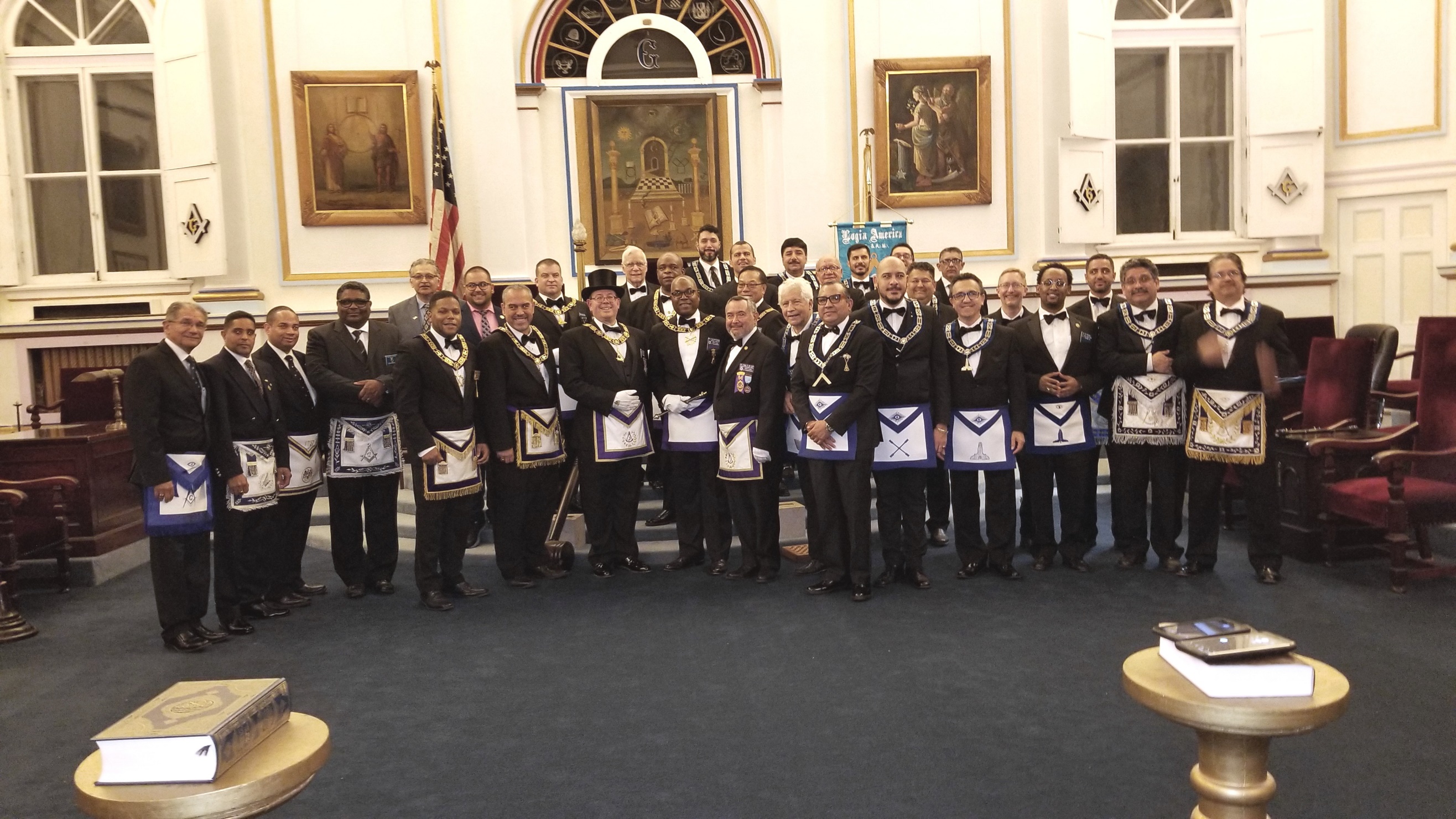 For over a year, along with the participation of several brothers from our Masonic club, I have researched and written what is now four chapters/articles bringing to light different Spanish speaking Freemasons who have been a source of influence and have made significant contributions throughout the Caribbean, Central and South America, as well as the world. This has also served as an introduction to Latin American Freemasonry. We hope you have enjoyed them. We were also able to share some of our initial work we had previously done such as the crest of the club/future lodge.
I would like to bring you another update into our progress. As of July 2019, I was elected unanimously as the President of Club Masonico Libertad. Joining me were Secretary W∴Richard Gonzalez and Treasurer Brother Felix Diclo. I have established several special committees in order to advance, as well as share our tasks at hand. Two of the committees created are the by-laws and the translation committees. Through the by-laws committee spearheaded by W∴Richard Gonzalez, Club Masonico Libertad has drafted our first by-laws document. We understand that there is a very arduous road ahead before it is presented to our Grand Lodge as there will be many more revisions to come, as well as other documents and parts that must be completed before our submission for dispensation is considered. Nonetheless, we are all excited to see the progress from where we started.
Another key update we would like to address is a question we have been asked many times before. What ritual will we use? We will be using the same exact ritual and customs set by our Grand Lodge and adopted throughout our jurisdiction. Basically, this would be a translation into Spanish. We wanted to align in this matter in regards to ritual, in order to maintain consistency as well as ensure any brother from our jurisdiction could follow any part of the ritual being performed or conferred, and know exactly what is happening. I have been personally and diligently working with our Right Worshipful Grand Lecturer Robert Drisko in order to ensure we are following all the guidelines, edicts, and constitution to bring this part of the project into existence. We sincerely thank R∴W∴Robert for his assistance and guidance through this process. This committee is co-chaired by Luis Carcamo and Hugo Adames Sr., which have the task of bringing "Old Spanish" Verbiage into our documents.
Our club brothers are from many different lodges throughout our jurisdiction, as well as very diverse in the many Spanish speaking countries we are from. Currently we have over 20 brothers that are Spanish speaking and are involved in this work. Our native countries are from South America (Colombia, Venezuela, and Bolivia to name a few), Central America (Mexico and El Salvador) and the Caribbean (Cuba, Puerto Rico and the Dominican Republic). It has been very interesting to share our cultures with each other, as well as sharing our Masonic interactions or recollections from our respective countries of birth.
Speaking about interactions, our Club has made its first official visitation to another Spanish speaking lodge. On October 28, 2019 a group of eight brothers including R∴W∴Andre Faria DDGM for the East Bay District traveled to Logia America in Cambridge, MA to witness not only an opening and closing, but also the opportunity to see an official Massachusetts DDGM Visitation to this lodge. Massachusetts has several Spanish speaking lodges. This lodge has been in existance for 25 years. It was very interesting to see the interaction of the Grand Lodge officers all speaking English and the lodge maintaining all communication under the Worshipful Master in Spanish.
In regards to our visit, we would like to extend our gratitude to R∴W∴Paul J. Malagrifa, DDGM 2nd Masonic District and his W∴Baruti KMT-Smisouvong, GMC, for giving us the courtesy and inviting R∴W∴Andre Faria and myself as Grand Lodge representative to sit in the East during the visitation. We would also like to give very special thank you to the brothers of Logia America, especially to their W∴Ricardo Viera, SW Ricardo Gonzalez and R∴W∴Edgar R. de Leon for warmly receiving us into their lodge and offering their full support for our future lodge. We hope to continue to continue to build upon on our relations in the future.
Looking forward, we hope to travel to most of the Eastern Jurisdictions from Washington DC and up the East Coast, in order to view and experience Spanish speaking lodges. Looking ahead for the upcoming months, we will be concentrated on continuing to draft our by-laws, continue working on our translations, begin the organization of several events/programs to fund the future lodge and to practice and perform an opening and closing in Spanish as part of a program. Also, the first week of December, Brother Felix Diclo, Grand Lodge Representative near the Grand Lodge of Cuba and myself, will be taking part in the 160th Anniversary of the Grand Lodge of Cuba. We hope to bring more enlightenment of Cuban Freemasonry, as well as a viewpoint of this great occasion.
Anyone who is interested in being part of the creation of the Spanish speaking lodge, you are welcomed to reach out to me at This email address is being protected from spambots. You need JavaScript enabled to view it. or 401-365-8509. You don't have to know Spanish in order to be involved.